This is the Western Dakota Association
(1938-Present)
The Western Dakota Association (WDA) has the distinction of being North Dakota's oldest Class A high school athletic conference – and its most successful. Now in its 85th year, the conference has produced over 400 state team championships and numerous individual titles sponsored through the North Dakota High School Activities Association (NDHSAA).
The WDA was established in 1938 by five schools – Bismarck (Central) High, Dickinson (Central), Mandan, Minot and Williston. Since then, the WDA has expanded its membership and the number of sponsored sports/activities. Today, the five charter schools along with St. Mary's of Bismarck, Jamestown, Bismarck Century, Turtle Mountain Community High School of Belcourt, Bismarck Legacy, Watford City and Minot North give the conference 12 members. Bottineau-Rugby, Hazen-Beulah and Northwest Stars (Ray-Tioga-Stanley) are presently associate members, participating in boys' hockey and gymnastics, respectively.
The conference sponsors team championships in boys and girls sports administered by the NDHSAA. Football was the first sport the WDA awarded a regular season champion. Today, there are 23 sports conducted over three sports seasons. The fall season includes: football, volleyball, cross country (Boys/Girls), soccer (B), swimming and diving (G), tennis (B) and golf (G). The winter season: basketball (B/G), wrestling (B/G) hockey (B/G), gymnastics and swimming and diving (B). The spring season: track (B/G), baseball, softball, golf (B), tennis (G), soccer (G). In addition to annual team and individual conference awards, the WDA recognizes outstanding academic achievement through team and individual scholar athlete awards. The conference celebrated its 75th anniversary in 2013-14.
Formation and expansion
In the late 1930s, North Dakota's largest high schools, determined by enrollment, were part of an East-West Class A Conference recognized by the High School League (later to be renamed the NDHSAA). To keep travel costs to a minimum, and mainly out of convenience, schools would schedule football games against schools in their immediate area.
Unfortunately, schools based in far western N.D. had a more difficult time filling their schedules since they had fewer programs of comparable size around them. These schools often would resort to playing teams from neighboring Montana.
To remedy this problem and create continuity in football scheduling, five schools – Bismarck (Central) High, Dickinson (Central), Mandan, Minot and Williston – agreed to form a western division within the Class A East-West Conference. And with that, the Western Dakota Association was created in 1938.
The look of the conference has changed over its eight-plus decades of existence. It expanded from its original five schools to eight in 1944 when St. Mary's of Bismarck, St. Leo's of Minot (later to be known as Bishop Ryan) and Jamestown joined. St. Leo's initial stay was brief, however.
After one season it left the conference to compete against smaller schools in its region. St. Leo's returned for two football seasons in 1952-53. In 1954, Rugby was admitted and participated in the football conference.
A significant change happened in the spring of 1960. Class A schools agreed to dissolve the current East-West Division format used in such sports as football and basketball. At a meeting in Jamestown in April, representatives from 10 schools agreed to expand the WDA's oversight in other sports and activities. The 10 schools were: Bismarck, Bismarck St. Mary's, Dickinson, Jamestown, Mandan, Minot, Williston along with Minot Bishop Ryan, Harvey and Rugby. As part of the association, schools agreed to play a round robin schedule of games, beginning in 1961. Rugby, Harvey and Minot Bishop Ryan, however, opted not to field a team for football, so the number of WDA football participants was seven. And speaking of football, the most significant change to come out of the decision to do away with the Class A East-West Divisions was the discontinuation of the end-of-season title football game between the winner of the East Division and WDA (West Division). That decision was not unanimous. A majority of coaches and school officials in western N.D. wanted the game to continue to assure an annual champion in the sport. Opponents, schools in the East, pointed to weather and distance of travel as factors in opposing the late-season contest.
Jamestown departed the WDA in 1963 and competed as a Class A independent before becoming a charter member of the Eastern Dakota Conference in 1968. Minot Bishop Ryan rejoined the conference as full members in 1964. Rugby and Harvey left the conference in the mid-1960s. Dickinson Trinity was added in 1969 as a football member and eventually became a full member.
Membership remained at eight until Bismarck Century opened in 1975. With the exception of its tennis program, Minot Ryan would leave the conference in 1977 and participate as a Class A independent before joining the North Star Conference in 1980.
Four associate members – Bottineau, Devils Lake, Jamestown and Park River – were added to the conference in boys hockey, beginning in 1980 when the NDHSAA established a West and East region for the sport. Park River would leave after just two seasons and eventually co-op with neighboring Grafton. Bottineau, Harvey and Turtle Mountain Community High School (Belcourt) would compete as associate members in girls volleyball, beginning in 1982. Also that year, Minot Bishop Ryan's gymnastics program competed in the WDA.
TMCHS would join as a full member in the fall of 1990 after the Class A North Star Conference disbanded following the spring of that year. Its football program would play in the conference from 1993-96.
In 1990, Minot Ryan would return to the WDA except for football, which would remain independent. Minot Ryan and Dickinson Trinity left following the 1991 sports season to compete in Class B in all sports except tennis, which woud remain part of the WDA.
In 1992, Hazen-Beulah was added as an associate member in hockey. Center would participate in boys swimming and diving as an associate member, starting with the 1993-94 season. Jamestown's soccer programs competed as an associate member, beginning in 1995. The Blue Jays hockey program moved to the EDC/East Region in 1996. The school was already competing in the EDC/East Region for most activities. Dickinson Trinity would no longer participate as a full member in tennis after 1996. Instead, the school would co-op with Dickinson.
In 1997, Jamestown would return to the WDA as a football member as part of the restructuring of the sport by the NDHSAA into four classes. Center would leave the conference in 1999 as an associate member in boys swimming/diving.
Beulah joined the WDA in a few fall sports in 1998 and then joined as full members 1999. Rising student enrollment forced the school to move up from Class B. Beulah would return to Class B competition in the fall of 2006.
In 2006, under a directive of the NDHSAA, Jamestown was realigned in the West Region for all activities, and thus, rejoined the WDA as a full member.
Devils Lake-Cando, an associate member in boys hockey, would move to the EDC/East Region, starting in 2006. Jamestown's football program would return to the EDC for one season in 2009 to create balance among the two AAA football leagues. The Blue Jays would return to the WDA in 2010 after Fargo Davies opened and began play in the EDC.
Minot Bishop Ryan would play its final seasons as an independent tennis program in 2009-10. The Lions would eventually enter a co-op with Minot High. Bishop Ryan would join the WDA as an associate member in girls softball. Conference membership remained at nine for the past several years, but expansion was on the horizon.
Bismarck Legacy joined the WDA in 2014 and quickly enjoyed success in number of sports. In the fall of 2018, Watford City joined as a full WDA member. The Wolves previously competed in Class B and have a storied football program. In the fall of 2022, the WDA's 12th full member, Minot North began varsity play in girls' golf. And by 2024-25, will already have 15 varsity programs in play.
COVID-19
In the late winter of 2020, the COVID-19 pandemic reached the United States. In
response to the rising threat of infection, a national emergency declaration was
called. Schools were forced to shutdown to slow the spread of the virus. As a result, the remaining winter sports postseason tournaments, including the remainder of the Class A basketball tournament was suspended and eventually canceled. The NDHSAA also suspended and canceled the remaining fine arts competitions for winter and early spring. And finally, in May, NDHSAA officials canceled the spring sports season. COVID also forced schools officials to make changes to the 2020-21 season to safeguard athletes, coaches and game officials as well as lower COVID risks. Conference-only play was implemented in many activities and some region and state tournament formats were modified to limit crowds and the spread of the virus.
Sports offerings increase
Membership in the WDA is not the only thing that has expanded in 80 years. The evolution of high school athletics/activities has changed the dynamics of the conference as well.
Football and boys basketball were the two competitive sports sponsored in the formative years of high school athletics in the state, but wrestling, track and field, tennis, cross country, golf and hockey would come along.
Many schools had established girls sports on a recreational or intramural level by the 1960s, but girls sports would make significant advancement in the decade with the inclusion of track and field, golf, tennis and gymnastics as NDHSAA-sponsored activities.
The 1970s brought additional sports under NDHSAA control, including boys and girls swimming and diving, girls basketball and girls cross country. Beginning in 1982, Class A volleyball would officially be sponsored at the regional level, and a year later, at the state tournament level.
Several schools across the state began boys soccer programs in the late 1980s. The NDHSAA would eventually sponsor the sport in 1995. Girls soccer would also be offered. Baseball, which already was an established Class B sport, would get NDHSAA sponsorship at the Class A level by 2000.
The start of a new millennium brought continued advancement in girls sports. Hockey was added in 2002 and softball began play in the spring of 2010. Beginning in the winter of 2020-21, girls' wrestling began.
Today, there are 23 sports featured – 11 for boys and 12 for girls. WDA athletes have moved on to compete at the highest levels of collegiate athletics in their respective sports and a few have even reached the professional level, further demonstrating the conference's excellence. Several coaches have also achieved significant milestones as well as selection for national coaching awards.
More changes
Over the years changes have also come in the form of new rules, regulations and standards of play directed by the National High School Federation and NDHSAA.
Technological advancements and improvements in equipment have enhanced competition and player safety. Other important changes have included greater emphasis on the safety of participants and proper training methods. Coaching development programs have been established and attention given to promoting the practice of good sportsmanship by athletes, coaches and spectators.
Throughout its rich history, the WDA has demonstrated success in high school extracurricular activities can be built on a foundation of character, values and academics.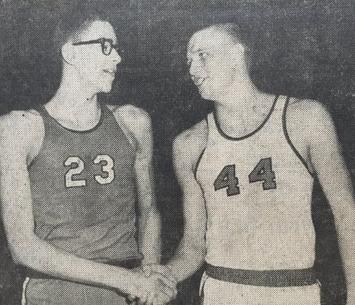 Two of the all-time great WDA and Class A basketball players -- Williston's Phil Jackson (left) and Rugby's Paul Presthus (right) shake hands before a meeting in the 1961-62 season. The two rivals led their squads to state championships and were among the state scoring leaders in all of their years in varsity play. Jackson went on to play collegiately at the Univ. of North Dakota. Presthus, meanwhile, played at the Univ. of Minnesota. (Photo courtesy of the Pierce Co. Tribune, Rugby, ND.)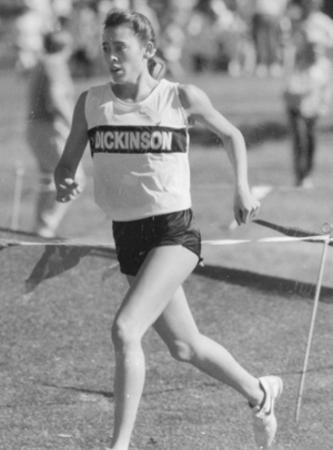 Dickinson's Becki Wells was a dominant cross country runner in the early 1990s. She won three WDA titles and back-to-back state crowns before a successful collegiate cross country and track career at the Univ. of Alabama and then later the Univ. of Florida. (Photo by Tom Stromme of the Bismarck Tribune.)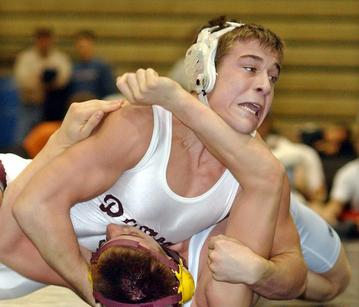 Bismarck High wrestler Scott Glasser won several individual state championships during his time at Bismarck High in the 2000s and eventually had a successful career at the Univ. of Minnesota. (Photo courtesy of the Bismarck Tribune.)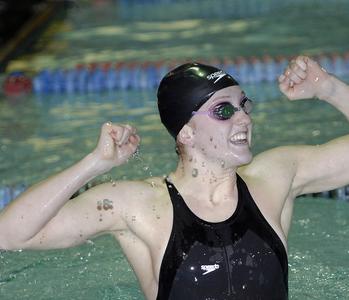 Minot's Dagny Knutson qualified for the U.S. Olympic swimming trials and set a national record in the 200 Freestyle in 2008. She won a remarkable 21 state titles (individual and relay) in her career for the Majettes. (Photo courtesy of Will Kincaid of the Bismarck Tribune).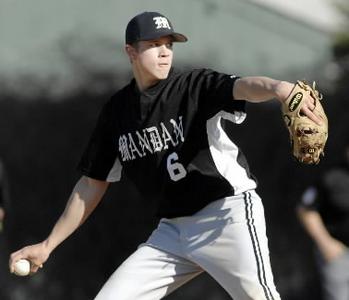 Mandan's Jay Flaa made his Major League Baseball debut with the Baltimore Orioles in 2021. He was a standout high school player, eventually playing collegiate ball at the Univ. of Mary and NDSU. (Photo courtesy of the Bismarck Tribune).